QLOCKTWO TOUCH Full Metal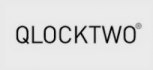 QLOCKTWO TOUCH is a precision table clock with an alarm function.
It also displays the time using a matrix of letters, spelling out the time in words.
In addition to its compact format, the simple operation of QLOCKTWO TOUCH makes it a popular design item.
Simply touch the casing to control key functions such as the Night-Touch mode, alarm deactivation and snooze mode.
The front cover is held in place by magnets and can easily be changed
Product Description
The QLOCKTWO TOUCH METAL COLLECTION focuses on the expression of your own personality, with the principle of perfect craftsmanship and true exclusivity.
The QLOCKTWO TOUCH FULL METAL with aluminium body and silver anodized.
Specification
Features: Touch snooze, night touch, night light, seconds mode, ambient light sensor, interchangeable letter matrix in different colours and languages, held in place by magnets.
Package includes: QLOCKTWO TOUCH including front cover, stainless steel base, self-adhesive protection strips, USB Cable 3m, 5 V USB power supply with UK plug, getting started guide, microfibre cleaning cloth.
Weight: 0,5 kg
Cable: 3m
Flashsetter: An app for iPhone, the precision quartz QLOCKTWO TOUCH can easily be set to the split second. Alternatively, the time can also be set manually.
Handmade in Germany by Biegert & Funk
Dimensions
Width : 13.5
Height :13.5
Depth : 1.8
All dimensions are approximate and are stated in cm.
Home Delivery
Or click & collect from our store
More from this collection...