QLOCKTWO Textile Cable Accessory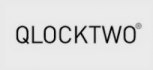 High-quality colored textile cable, length 3.50m as optional accessory.
Ideal for wall-mounting the QLOCKTWO CLASSIC without 220 V direct power outlet from the wall.
Stages the visible power supply as a design element.
A power supply unit with a white textile cable (length 2.20m) is supplied as standard with the purchase of a QLOCKTWO CLASSIC.
Product Description
QLOCKTWO CLASSIC, a clock that tells the time in words.

The cable accessory is a funky replacement of the standard power lead which runs from the back of your QLOCKTWO wall clock.

If you prefer not to wire the clock through the wall behind your QLOCKTWO and instead run a vertical cable down the wall to your power socket, these coloured cables are ideal to enhance the look of your QLOCKTWO display.

Available in seven vibrant colours.
Click & Collect
This item is available for collection only, please contact us for possible delivery options.
More from this collection...