QLOCKTWO CLASSIC Qolor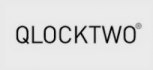 The QLOCKTWO CLASSIC QOLOR offers the entry into the world of QLOCKTWO.
The bright colors of the polished acrylic glass fronts are applied in an elaborate multiple screen printing process.
Due to the variety of colours they form a unit or a deliberate contrast to the existing interior design. Through the reflections and mirroring, the surfaces enter into a dialogue with their surroundings.
An excellent design object. Available in several bright colors
Product Description
QLOCKTWO CLASSIC, a clock that tells the time in words.

It has a quadratic matrix of letters, where some of the letters are illuminated. The time is displayed as text in five minute intervals, in combination with four illuminated points in each corner representing the minutes in between.

Choose from a number of different acrylic coloured fronts attached by built in magnets to the body of the QLOCKTWO.

All clocks supplied in English unless requested otherwise.
Specification
Sensors adjust the light automatically to ambient light conditions so that even at night the clock can be easily read. The brightness can also be manually adjusted.
With the QLOCKTWO FLASH SETTER app for iPhone, the precision quartz QLOCKTWO CLASSIC can easily be set to the split second. Alternatively, the time can also be set manually.
The introductory words "IT IS" can be switched on and off. In the selectable purist mode, "IT IS" is only displayed every half and full hour.
The wooden body of the QLOCKTWO is lacquered with four coats of white gloss paint.
Includes wall brackets for mounting or solid acrylic glass holders for table standing.
Coloured power cables can be purchased to replace the standard power cable supplied or alternatively fittings are provided to help wire the QLOCKTWO through your wall keeping cables out of sight.
Handmade in Germany by Biegert & Funk Product GmbH & Co. KG
Dimensions
Width: 45
Height: 45
Depth: 2.2
All dimensions are approximate and are stated in cm.
Home Delivery
Or click & collect from our store
You may also like...
---
---
---
---
---
---
---
More from this collection...